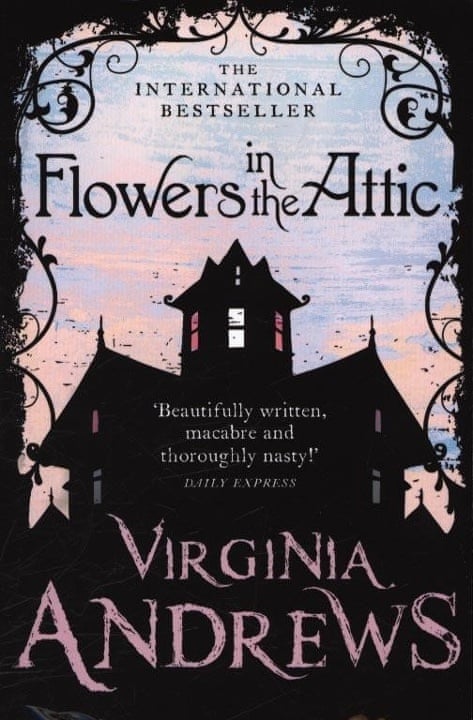 I don't know why I have never read this before.  Back when it came out I really enjoyed schlocky bestsellers and this would have certainly fit the bill.  I remember looking at it in bookshops but never got round to purchasing it.  I have put this right  because Virginia Andrews is one of the writers featured in Christopher Fowler's "The Book Of Forgotten Authors" from which I like to select reading choices from time to time.  The only copy I could find to borrow was a large print edition from the library- I haven't read a large print book for many years and it took a bit of getting used to and might actually have affected my response to this. 
The whole Virginia Andrews story is a strange one. She published a series of best-selling novels, perhaps best described as Southern Gothic, five of these continued on from this novel and then sadly died in 1986. This was particularly sad for her publishers for whom she was making a lot of money which they didn't want to give up. She left behind a collection of unfinished manuscripts and so the publishers turned to ghost writer Andrew Neiderman to complete and then "become" Virginia Andrews. He has now written around 70 more novels exploring the themes she touched upon in her published work.
In many ways this may have been a shame as it may have diluted the power of the original novels because there is no doubting that when someone is putting out this number of publications things are going to become formulaic. But here we have the original Virginia Andrews' most famous work and one most people will recall (even if they haven't read it or seen either of the filmed versions) that it is about a family of children who get locked up in an attic for years.
The tale builds in its darkness and becomes really quite oppressive. What lets it down for me is the author's overly florid style which makes some of the narration by teenager Cathy and especially the dialogue seem unnatural and which from time to time made me cringe. It is not because it is written from a teenage perspective because it is an adult Cathy who is looking back at her time of imprisonment. I think it has not dated too well but the sense of suffocation, of sin and the domestic horror of children increasing trapped in a web of adult cruelty is fascinating. I cannot imagine how Andrews made a series out of this (five books by Mark 1 and another 3 by VA Mark 2) without really watering down the originality of this novel but it does end feeling rather unresolved so I might be tempted to at least read the follow up "Petals In The Wind". As to the second Virginia Andrews' work, I'm not sure.
Flowers In The Attic was first published in 1979. I read a re-issued 2011 version by Harper Collins.